Child Safety
WARNING!!!!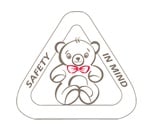 Young children can be in danger of strangulation from the loops of pull, chain and bead cords that run through and operate window coverings.
There are steps you can take to make homes safer and prevent unnecessary injury or death.
Cord securing clip
Breakaway tassel
Which we provide for FREE.
There is also chainless louvers, intu blinds or wand operated blinds.